"Boop Boop dit-em dat-em what-tem chu!" This catchy chorus from the song Three Little Fishies by Saxie Dowell could be heard loud and clear at Morgan Lake on Saturday August 18th during Part 2 of a four month long outdoor, children's story book reading, song, and game hour series called Storytime by the Lake. The event is open to all ages and is a chance for children and families to learn a little about specific topic related to Morgan Lake; this month's topic was fishing.
Four fish and fishing related books were read by Morgan Lake Volunteer Lake Stewards Joclyn Wallace, Dan Wallace, Betty Fugere, and Zachary Shaw. The story books read were:
One Fish, Two Fish, Red Fish, Blue Fish (fish pages), by Dr. Seuss
Piggy and Dad Go Fishing, by David Martin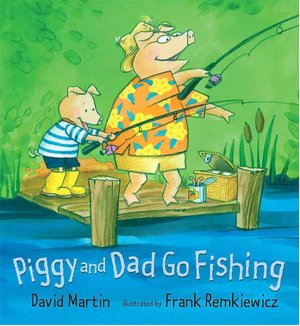 A Fishing Surprise, by Rae A. McDonald
A Good Day's Fishing, by James Prosek
Fish and fishing related games were played between each story. Hot Potato (renamed Fling the Flounder by Morgan Lake Volunteer Brittany Bush) was played, as well as a life size version of the magnetic fishing board game Let's Go Fishin' designed by Morgan Lake Volunteer Amy Wallace. Children also had a chance to get their hands wet by playing with some wind up fish toys in a small, inflatable kiddie pool. The last event for the day was the Fishy Foto Contest where children (and parents) were encouraged to make their best "fish face" in the cutout board designed and painted by local artist Joanna Cohen.